Every Gent can look like the cultured alpha male by hosting a cocktail party in his humble, or not-so-humble, abode. If you're lacking the funds to hire a personal mixologist (real term) and are attempting to DIY then learn from a master. With a quick glimpse at your iPhone to 'check a text' you can have a whole book of knowledge at your disposal.

Simple instructions and colourful pictures should permeate even the most intoxicated of hosts.
Call yourself the ultimate sports fan? Download this app and you may have a point. Create your own tailor-made news feed from a list of sports, teams, or even particular events. In short, you'll only ever know what you want to know. Another great feature are 'huddles'; bringing the pub atmosphere under the guidance of your right thumb. Create private groups to discuss the current goings-on in your chosen sport in your own MOTD-style digital amphitheatre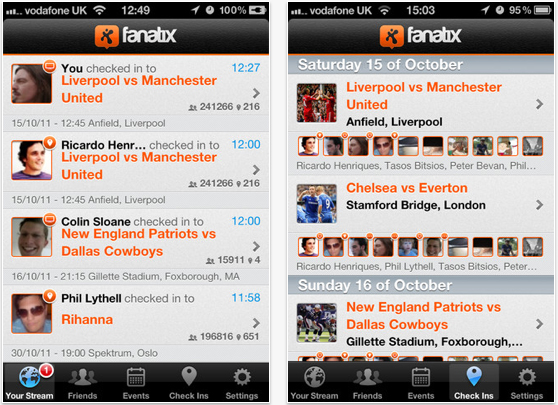 Whilst not strictly male-orientated, this piece of musical witchcraft is simply incredible. If
you've
ever been in the car and thought "what the hell is this song?" then load up this app and hit Shazam! 99.99% of the time you'll be provided with the answer. Genius.
AKA the Gym Dictionary. If
you've
ever been at the gym stuck with your next workout then this app is for you. A cracking guide to multiple exercises and workouts, it should almost promise a chiselled body included within the price. All exercises are demonstrated and illustrated perfectly for quick viewing and workouts are broken down into specific body parts. Any easier and this app would lift the weights for you…
The egotistical skiers best friend. This app tracks everything whilst you shred the white stuff. Elevation, mapping and most importantly, speeds are all tracked and delivered in an easy-to-interpret data chart. It'll even calculate when you're just sitting on your arse in a chairlift using the built-in gyroscope in the iPhone so no need to fiddle with the screen between runs. Powder-ific.
Using the camera's phone as a viewfinder, this gem of an app overlays local information over a real time camera feed. Instantly search for local amenities and know your stuff about the place your in. Look like a pro and have fun with the camera at the same time.
Feel like a Parisian in Paris or a Hamburger in Hamburg. This app has a particularly great selling point; the content can be downloaded and so is available offline. Wander the streets of Amsterdam with the confidence to proudly shout "I know where
I'm
going" as you head for the nearest *ahem* coffee shop. Everything is mapped out, user rated and synopsis(ised) in these city guides. Rome
wasn't
built in a day but the folks at TripAdvisor could argue otherwise. Concise information on attractions, restaurants, hotels and more; the perfect city guide.
Finally know whether you'll need to break the sound barrier to make the 7:21 to Paddington. This app
doesn't
rely on the incompetence of local train authorities to let you know when a train
should
arrive or depart; rather the trains are all GPS-tracked. With a quick glance you can know exactly where your train is and when it
will
be at your chosen station. Give yourself a chance during the morning commute.
No real explanation needed here. Before you attempt to conquer the BBC's latest run of Masterchef you should get to grip with the basics. Useful cooking tools such as timers and measures supplement a very detailed cookbook. Just don't tell the wife if you prefer lazier evenings.
The simplest, and therefore best, flashlight app for your iPhone. Don't look like an amateur Bear Grylls by using your screen as a light; turn your phone around and use the flash to light up the darkness. Man 1 Nature 0.